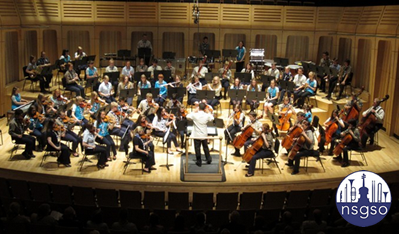 Over 75 Scouts & Guides from all across the UK will join together this summer to form the National Scout & Guide Symphony Orchestra.
The NSGSO is a week-long course where Scouts & Guides take part in music rehearsals and masterclasses, which orchestra manager Jill Bowman describes as a "week of fun, friendship and music".
The course, which is celebrating it's 40th Birthday nearly didn't go ahead this year after the orchestra was closed down in December. Jack is from Ipswich and set up a very successful petition to save the NSGSO. He thinks music and Scouting is an important combination:
"Music is a very team based activity which goes very well with Scouting & Guiding because some of the main things we do is leading, encouraging others to lead and also knowing when to step back – while working together as a team to accomplish a task."
Kayleigh Poacher spoke to Jill and Jack ahead of the course, as well as orchestra members Annie, Laura, Samuel, Ruth & Glenn to find out all about the NSGSO:
[soundcloud url="https://api.soundcloud.com/tracks/211096177″ params="auto_play=false&hide_related=false&show_comments=true&show_user=true&show_reposts=false&visual=true" width="100%" height="150″ iframe="true" /]
The orchestra will perform in the Adrian Boult Hall at the Birmingham Conservatoire on Friday July 31st and Saturday August 1st at 7:30pm. The audience will already contain some well known faces, including Deputy UK Scout Commisioner Tim Kidd and the Chief Guide, Gill Slocombe.
The programme includes Tchaikovsky's 5th Symphony and many pieces of film music so there is something for everybody to enjoy! Tickets are available on the Birmingham Box and cost £10, or £8 for groups and concessions.
There is also a shorter martinee on August the 1st especially for Scout & Guide groups in the Birmingham area to experience classical music. Tickets are £2 – to buy them you just need to email [email protected].