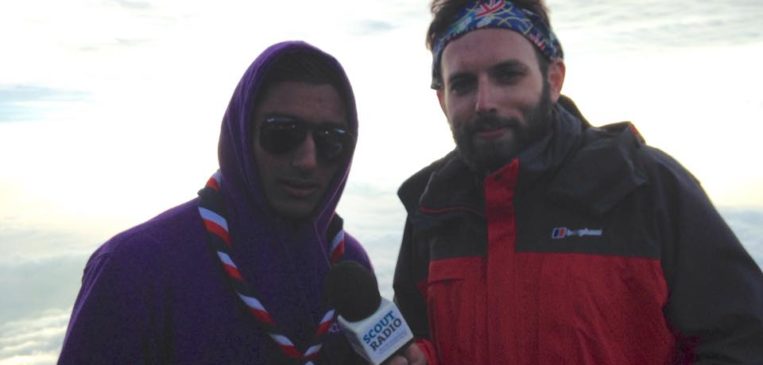 Scout Radios Adam and Scott had one of the Ultimate adventures after the WSJ2015, climbing to the top of Mount Fuji, and whilst there they conducted Scout Radios highest ever interview with the UKs Deputy Youth Commissioner Jagz Bharth.
[soundcloud url="https://api.soundcloud.com/tracks/220011955″ params="color=ff5500&auto_play=false&hide_related=false&show_comments=true&show_user=true&show_reposts=false" width="100%" height="166″ iframe="true" /]
The expedition to climb Mount Fuji was an option for a limited number of IST once they had finished and left the Japan, the climb took 2 days including an overnight stay near the top that enabled those taking part to reach the summit around sun break and catch glimpses of an amazing sunrise through the clouds, which was one of the highlights of the experience for Jagz.
"waking up to complete darkness and being able to hike up the mountain into the sun rise basically and see the sky turn from dark to bright orange to see the sun coming up"
It was a personal goal for Jagz and he expressed the level of teamwork required to go up the mountain and the motivation mentally and physically it takes to achieve, talking about his next challenge he expressed a passion for kilimanjaro or Everest one day.
He summed up the World Scout Jamboree in these three words of "Opportunity, Friendship and Teamwork" and for those Scouts going to 2019 he recommends that they "Grab it with both hands and make the most of it, because its not everyday that you can experience the world in one campsite"
You can catch more of our coverage from the World Scout Jamboree at www.scoutradio.org.uk/WSJ