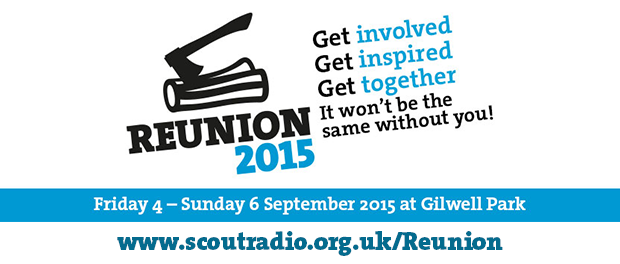 Gilwell Reunion is the 4th to 6th September and is a fun weekend full of activity, workshops and more aimed at the adults in Scouting. Scout Radio spoke to Jess the Deputy Reunion organiser to find what its all about.
[soundcloud url="https://api.soundcloud.com/tracks/220265947″ params="color=ff5500&auto_play=false&hide_related=false&show_comments=true&show_user=true&show_reposts=false" width="100%" height="166″ iframe="true" /]
The event is open to all adults in Scouting with any role in Scouting from Network member to Exec member…
"To meet friends, socialise, take part in activities, learn about the new programme, take part in workshops, do some training, pretty much all you can imagine under one roof"
More details can be found and bookings made at www.scouts.org.uk/reunion including the latest version of the programme booklet that can be found HERE
The event is packed full of activities, workshops and entertainments, including theme parties and fancy dress.
Scout Radio is broadcasting during the event online and via TuneIn smart phone app, we are also running a workshop and launching our new "our show" programme activity.
For more information and more of our coverage head to www.scoutradio.org.uk/reunion