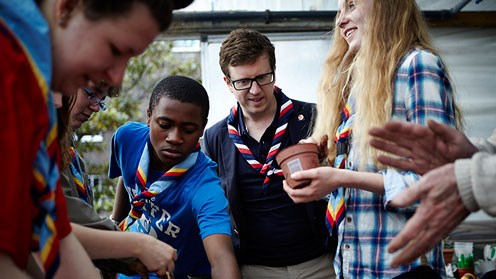 As well as an update on Compass, the official Reunion Q&A with Wayne & Hannah, TSA CEO Mayy Hyde was at Reunion talking to people and answering their questions, we caught up with him just after the Q&A to find out a  little more about what hes been up to and looking forward.
[soundcloud url="https://api.soundcloud.com/tracks/224884432″ params="color=ff5500&auto_play=false&hide_related=false&show_comments=true&show_user=true&show_reposts=false" width="100%" height="166″ iframe="true" /]
Himself and the organisation have been working hard over the summer, mainly on compass and other projects like A Million Hands, but he also had the opportunity to spend a week at the World Scout Jamboree in Japan.
"just seeing so many thousands of people having the opportunity of a lifetime it was absolutely fantastic"
Overall very busy and exciting summer, the Jamboree being a great aspect of it to see Scouting in action and a really powerful experience.
Over the next few months, the big launch of A Million Hands that's happening now and over the next few weeks is the big project. He hopes that the movement will get behind it and already feels that's the case with over 130,000 young people signed up already.
"the difference we can make to society is absolutely massive"
Its been hard work to get to this point and driven by young people, with the charities chosen as part of the project actually chosen by young people.
If you havent signed up already check out Scout Radio coverage of A Million Hands on our website, and to find out more head to the A Million Hands website www.amillionhands.org.uk