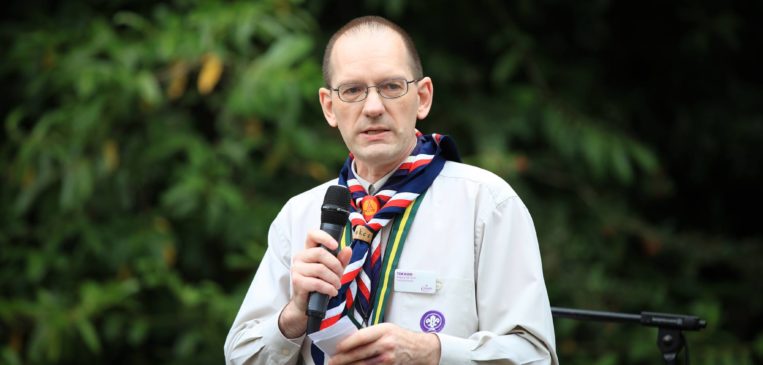 Wayne Bulpitt was appointed as the UK Chief Commissioner in May 2009, having been in Scouting since the age of 8. After an incredible term holding the position of UKCC, he's now stepping down and passing the role over onto his deputy Tim Kidd.
At a ceremony yesterday hosted at the end of the 90th anniversary of Gilwell Reunion, the handover ceremony for the role of UK Chief Commissioner took place between these two heroes of Scouting. After a tearful farewell to Wayne, Tim took to the stage with his usual air of barely suppressed cheerfulness, and showed in his opening speech just why he is the best choice in the whole of UK Scouting to follow on from Wayne Bulpitt.
[soundcloud url="https://api.soundcloud.com/tracks/281359396″ params="color=ff5500&auto_play=false&hide_related=false&show_comments=true&show_user=true&show_reposts=false" width="100%" height="166″ iframe="true" /]
This isn't to say, however, that the role for Tim Kidd will be easy. He's stated that he'll be working closer with his current team and new deputies that will be appointed. Holding several positions now however, and having been a Scout all of his life (including for the first time yesterday, a GSL role, albeit of the 1st Gilwell Park group), it's easy to see that these potential challenges facing him as the incoming UK Chief Commissioner will be faced with a smile, and a strong team by his side.
"I am truly proud to be part of UK Scouting where we genuinely change lives for the better. I am Tim Kidd, I'm a volunteer, and I have no idea how I've ended up on this stage…"
For more news from Gilwell Reunion visit scoutradio.org.uk/reunion.