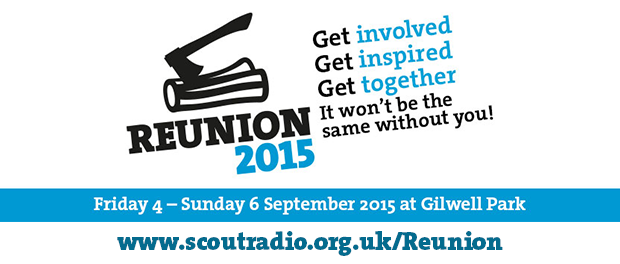 Its Gilwell Reunion 2015 weekend and from looking at the programme its going to be a fantastic weekend.
Scout Radio will be there all weekend bringing you the best bits and more of the weekend for those onsite and for those that couldn't make it.
We will be broadcasting LIVE from the training ground Saturday 10am – 4pm and Sunday 10am – 1pm, you can listen live by our studio, or online via the scout radio website and of via mobile / smart phone app "TuneIn".
Throughout the weekend we will be interviewing and releasing podcasts & articles about the event and some key people and things going on, after the evet we are aiming to release loads of podcasts & articles hopefully one for every stall and EVERYTHING that happened at reunion. To catch all of that head to www.scoutradio.org.uk/reunion
We are also launching our new programme & badge activity "our show", how to get your own scout radio show on a night from your hut. We are running two workshops (check the reunion programme for information of times & location) during the weekend to explain and get people booked up.
and we are also running a competition to win a scout radio listener hoodie by signing up to our mailing list… this is being launched saturday morning.
finally, please feel free to come say hello to our studio on the training ground or stop and chat to any of our team around site.
See you there and hope you have a great reunion.