Youshape week took place last week across the UK, culminating in a weekend event at Dearne Valley campsite. We were in attendance to find out more about Youshape.
https://soundcloud.com/scoutradio/youshape-weekend-2016
After a week of exciting youth shaped and youth-led events across the UK, the weekend heralded way to Youshape 2016, a weekend conference event in Dearne Valley, Doncaster with over 200 scouts in attendance. Progressing from a single day event last year, to a week of adventure and a weekend event, Youshape was full of excitement for Scouts of all ages.
The weekend in Doncaster consisted of several large conference sessions on Saturday morning and afternoon, two of which were live streamed online in the morning (the live stream being directed by Scout Radio's very own member Andrew, who was on the Youshape planning team) followed by a Q&A interviewing well known Scouting guests such as Matt Hyde or the three UK Youth Commissioners, with questions fielded from the room and all in attendance.
"The idea is…" says Jay Thompson, deputy UK Youth Commissioner "that a young person could come away from one of the sessions this weekend, take ideas back to their group or County, and run a youth forum, or teach beavers about inclusivity, or help their local area to progress in making Scouting more youth-focused"
As was repeated several times over the weekend, Youshape is actually one of our biggest core values as a movement. Being 'youth-led' and 'youth focused' as Matt Hyde eloquently put during the Q&A, isn't about replacing everyone with people under 30, but instead ensuring that leaders are directly listening to and involving Scouts of all ages to shape their future. Youshape as a movement is about bringing change across the Country in a national movement to ensure that the ideas, opinions and questions of the focus of our volunteer movement, young people, are at the heart of and drive what we all are working towards.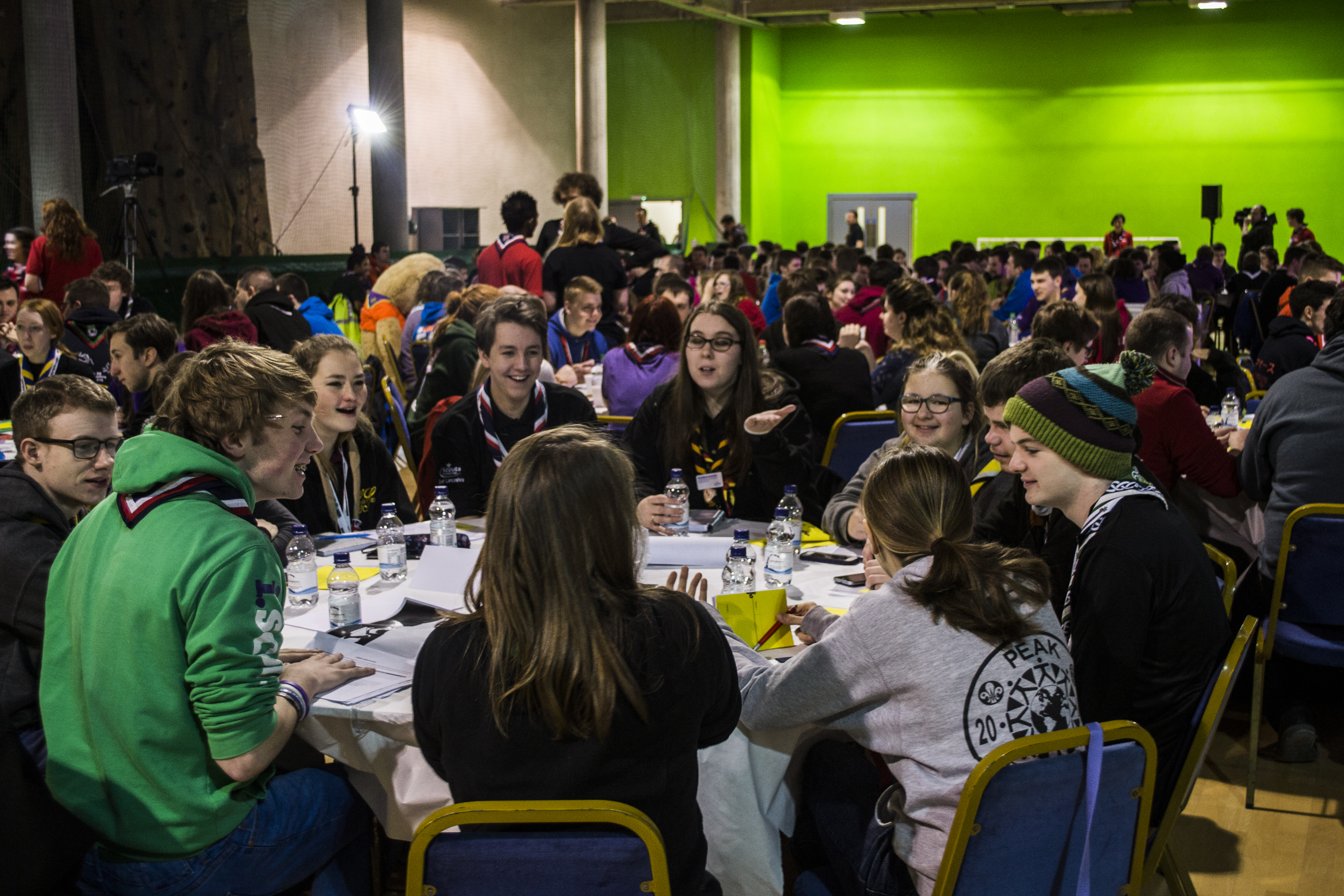 East Sussex Youth Commissioner Frankie said "What's really been good is I've met lots of other youth commissioners, wrote down lots of ideas and can't wait to take them back and move on with them"

Derbyshire's nominated Youth rep Matt commented that "Youshape is a great opportunity for people to meet and share ideas. The opportunities that arise from it and others across the Uk are brilliant to help young people shape the future of Scouting for the better"
Following several conference sessions with young people on Saturday, the weekend was followed by Scouts experiencing 4 of 12 different focus group sessions they could opt into, ranging from learning about and running Youth Forums to discovering more about Adventure and taking those ideas back to sectional level. Youshape was very much an event that was ran by an entire team of Young People, teaching other young people exciting ideas and how they can take them back home to grow at a local level. The Youshape planning team consisted of 16 Scouting members under 30, who organised and ran the whole Youshape event alongside Rosie Austin of HQ and Jay Thompson.